Petroff was awarded this contract from the 11/08/2013 IDOT letting. Work on the project began in March of 2014. With a aggressive completion date of May 31, 2014 Petroff's crew had to work through the cold and long winter months to keep this project on schedule. This project was designed by Rhutasel and Associates, Inc and inspected by the City of O'Fallon's Project Engineer.
Petroff was recognized by IDOT for 2014 contractor of the year special recognition.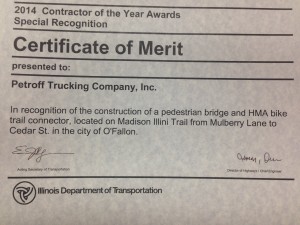 Scope of Work: Included installation of 72″ RCP through the existing creek and all related Earth Excavation work. Importing Approximately 7,700 Cubic Yards of Earth to build the new switch back design for the connector trail. Intersection work at Madison Street including new curb and gutter, Handicap ramps and new asphalt pavement. The bridge spans 94′ across the trail below. The abutments took approximately 50 Cubic Yards of Structural Concrete with a decorative stone texture. The bridge also has underpass luminaire lighting for safety at night. The entire new trail was paved with 3″ of surface course mix with a 6″ stone sub base. To finish off the trail it was completely seeded and straw blanketed to ensure no erosion would take place. Safety bollards, wood fencing, and biking warning signs were installed all along the trail.
A special thanks to all who worked on the project and to the City of O'Fallon, IL.
To watch a full video of the bridge lift please Click Here