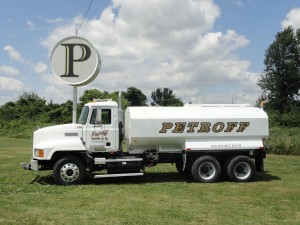 Transportation & Hauling
Petroff Trucking Co, Inc. is one of the metro St.Louis largest construction hauling firms. With a fleet of over 45 Road Tractors, Heavy Haul Low-boys, Tandem Dump Trucks, Tri-Axle Dump Trucks, Water Trucks, Service Trucks, and Roll-Off Trucks we can handle any hauling needs for our customers. Petroff's semi fleet pulls a wide variety of trailers for specific projects ranging from our rubble dump trailers, asphalt dump trailers, material end dumps, bottom dumps, Side Dumps, flat beds, water tankers, and extendable pole trailers. All of our fleet is DOT inspected and we maintain all of our trucks to high standards. We are able to maintain this many trucks with a staff of well trained mechanics that work round the clock if needed to ensure our fleet is road ready.
Petroff's drivers are members of the local teamsters unions and all have current medical cards and are trained in house for driver safety and truck inspections.